It's safe to say that nobody wants to deal with unsightly, stubborn mold in their homes. When left unaddressed, excess moisture in a home will create mold and may also result in structural rotting and degradation. Not only can mold cause a number of negative effects on your home, but it can also pose a series of health threats to the people in it. That is why it is essential to never let mold continue to accumulate, and to always act promptly when you find mold in your home. Read on to discover how to prevent mold growth and promote a safe and healthy living environment by installing quality windows and doors from HomeRite.
What Causes Mold?
For starters, what exactly causes mold? While there could be several possible reasons for mold growth in your home, the primary suspect is typically moisture from leaks or condensation buildup. Mold thrives in moist and dark conditions, which makes bathrooms and kitchens the most vulnerable to mold growth. This unwanted moisture and the mold it creates can pose a threat to your home and the people inside it, which is why it is incredibly important to catch this issue early on and take the necessary steps in removing mold growth as soon as possible.
Tips to Prevent Mold Growth in Your Home
1. Be Mindful of Moisture
Mold loves moist environments, and our local climate makes moisture control a significant concern for Florida homeowners. For example, if you find mold in the corner of your bathroom, that does not necessarily mean that your bathroom is dirty but that you may have some moisture problems that should be addressed as soon as possible. To reduce excess moisture and prevent mold altogether, it is also important to try to keep the humidity level in your home under control. By having energy-efficient windows and entry doors, it will be much easier for your home's HVAC system to maintain a consistent humidity level.
2. Ensure Proper Ventilation
Proper ventilation will help dry the air in rooms that are more susceptible to moisture, preventing condensation that can ultimately lead to mold growth. A few ways to promote healthy ventilation include opening windows and internal doors, using floor and ceiling fans and turning on the air conditioner. All of these tasks will help circulate fresh air and decrease the stagnant air moisture that has the habit of condensing on surfaces.
At HomeRite Windows and Doors, we provide an array of energy-efficient window options that encourage natural ventilation. If you are searching for the perfect windows for your kitchen or bathroom areas, consider double-hung windows, casement windows or awning windows that are all easy to operate and great for optimal ventilation.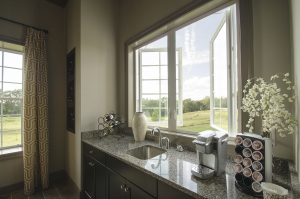 3. Fix Leaks and Replace Old Windows 
Since we know that any excess moisture provides mold with a place to grow, it is essential to find and fix any leaks you have at home as promptly as possible. Your windows are a good starting place to check for possible leaks. If you suspect that water may be getting inside through your windows, it may be time to call your local window professionals to properly repair your window to prevent potential mold growth down the road.
Damaged window frames, broken glass, poor weather stripping, or windows that were not properly installed are all elements that could encourage a leak in your home. While it is possible to reverse the damage from window leaks through repairs, this is also one of the common warning signs that it may be time for homeowners to replace their windows altogether. Windows that perform to their best ability will always prevent water from coming inside.
Choose HomeRite for Quality Replacement Windows in Jacksonville
Starting with a free consultation all the way to the installation day—you can trust that our experts at HomeRite Windows and Doors will be there to help you every step of the way of your window replacement process. If you are in the market for new or replacement windows, we encourage you to contact our office today!