HomeRite™ Patio Doors
Create a distinctive style for your Northeast Florida home with HomeRite™ patio doors
GET A FREE QUOTE
How Do You Like to Live?
HomeRite™ Patio Doors Let You Choose
HomeRite™ patio doors help you transform your home and bring the outside in. Our beautiful exterior patio doors come in multiple styles including sliding glass doors and bifold patio doors. Choose from a variety of materials including fiberglass, aluminum clad wood and vinyl, as well numerous glass, hardware and finish options.
From classic to contemporary, HomeRite™ patio doors provide homeowners with perfect custom fit, superior energy-efficiency and quality construction. Whether you are building a new home or are looking for replacement patio doors for a remodel or home renovation, our patio door design experts can help you create personalized patio doors, perfectly suited to your needs and tastes.
Jacksonville's Most Trusted Name For New & Replacement Patio Doors
Patio Doors for Every Taste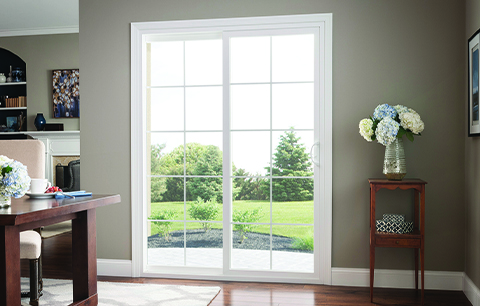 Sliding Patio Doors
Sliding patio doors, also called "sliding glass doors" or "gliding patio doors" are designed to slide horizontally with one or more operating panels. These are great for tighter spaces because they don't open into a space. HomeRite™ sliding glass patio doors come in a variety of styles and finishes from contemporary to classic, including sliding French doors.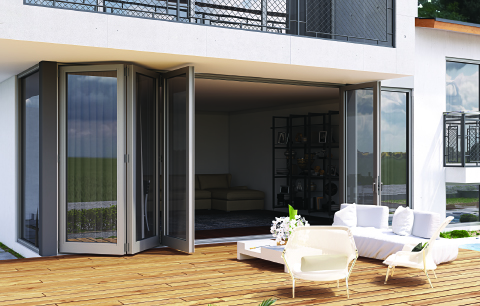 Bifold Patio Doors
Bifold patio doors or "folding patio doors" are another interesting way to open up your home and let the outside in. The beautiful doors have a distinct architectural character. When open, they fold up smarty and create a framed view. When closed, they provide a gorgeous wall of light with a geometric sensibility. They are great for contemporary or traditional homes.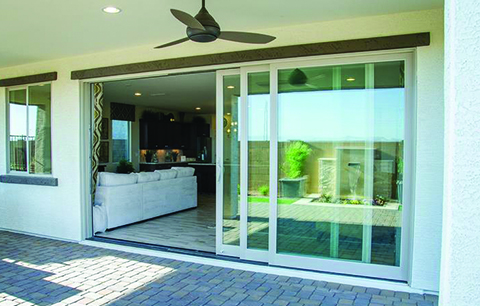 Multi-Slide Patio Doors
Multi-slide patio doors, also known as multi-glide doors, pocket doors or sliding glass door systems are created for smooth operation and straight stacking (or "pocketing") to provide unobstructed views of wide open spaces. HomeRite™ has multi-slide patio doors in a variety of styles, including traditional and modern designs with Low-E impact glass.
HomeRite Patio Doors Features & Technical Details
Exceptional durability, energy benefits, soundproofing, and structural performance.
All Products are Florida Building Code compliant.
Low-E Glass options.
A full range of standard sizes or custom-sizing for any space
Best-in-Class components—doors, door glass, frames, astragals, weather-stripping, lock sets and hardware.
Wide range of beautiful finishes, glass patterns, hardware options and energy-savings features.
All components backed by Manufacturer's Limited Lifetime Warranty.
Made in the U.S.A.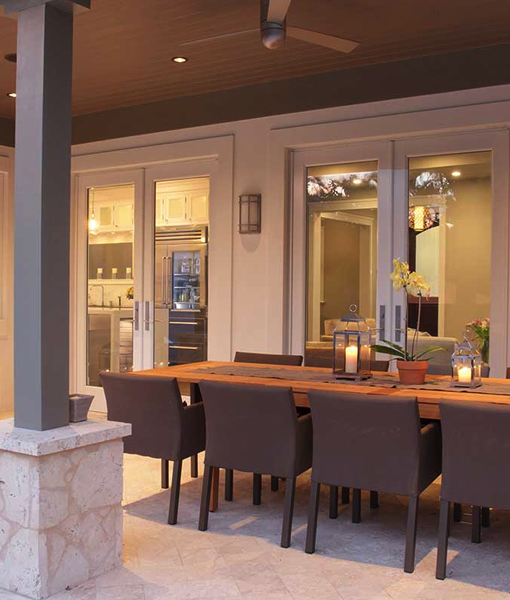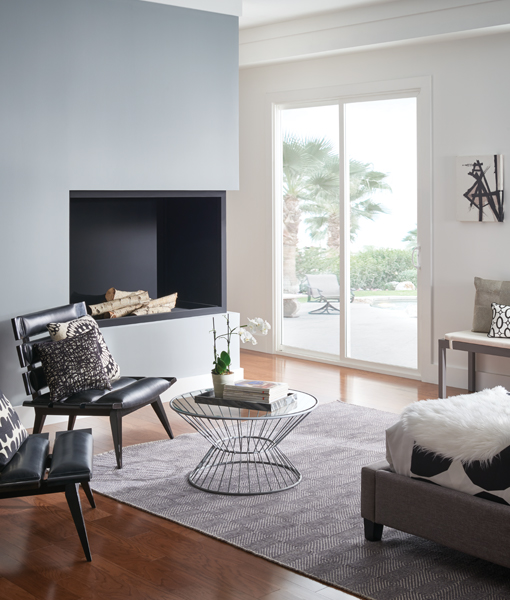 HomeRite Patio Door Styles & Design Options
Hinged French Patio Doors, Sliding Glass Doors, Multi-Slider Doors and Bi-fold Patio Doors 
Fiberglass, Aluminum-Clad Wood and Vinyl Patio Door Frames
Low-E Impact Glass, Privacy Glass and Blinds-Between-the-Glass Styles
Contemporary Patio Doors (multiple styles)
Traditional Patio Doors (multiple styles)
Minimalist Patio Doors (multiple styles)
French Doors with Single, Double and Triple-Pane Styles
Swing-In, Swing-Out, Gliding and Pocket Doors
Fiberglass Woodgrain Patio Doors (multiple styles)
Decorative Glass Overlays & Inserts
Etched Glass
Custom Patio Door Solutions