HomeRite Windows & Doors Warranty Protection
Two of the Strongest Warranties in the Business
HomeRite™ Windows & Doors provides unrivaled peace-of-mind. Our Lifetime Limited Warranty provides protection against manufacturer's defects for as long as you own your home. And our Lifetime Glass Breakage Warranty gives you added assurance. Please contact us for more information and details.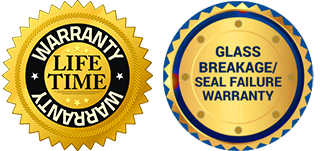 Frequently Asked Questions About HomeRite's Limited Lifetime Warranty
1. Why are window and door warranties important?
When making a significant purchase for your home, such as replacement windows and doors, it's important to make sure there are warranties in place in the event that any unexpected issues arise down the road. Furthermore, receiving a warranty will give you the peace of mind that you are purchasing a quality product. This is because by providing a window or door warranty, the manufacturer or dealer is promising to financially back the product if there happens to be a defect in the material or workmanship under normal use and conditions.
​
2. What does HomeRite's window and door warranty cover?
HomeRite will provide the original owner a Lifetime Warranty on all frame materials, mechanical parts (locks, latches, balances), and non-glass components. Insulated glass panels are warranted for 20 years from date of purchase. Window and door screens will be warranted for 1 year from date of purchase. Additionally, HomeRite will provide all necessary labor to correct any item covered by this warranty for the first 2 years of ownership. HomeRite, at no charge, will repair or replace at its option, any window or door proven to be defective. Any product that has a laminated or painted surface (interior or exterior) applied by HomeRite is warranted against peeling, blistering, and excessive ultraviolet discoloration for a period of 10 years. If such defects occur, HomeRite will, at its option, either repair or replace the defective product. However, upon repair or replacement, the manufacturer cannot guarantee an identical color match to other window/door products in the home due to the normal effects of weathering on the finish over time. (Please read the full Limited Lifetime Warranty document by clicking the link above.)
​
3. Is the HomeRite Limited Lifetime Warranty transferrable?
Yes. This Limited Lifetime Warranty is transferable by the original owner to subsequent owners for up to 20 years from the date of purchase. HomeRite must receive written notice of transfer within three (3) days of transfer date.
​
4. What does HomeRite do if I file a claim for a defective window or door?
HomeRite Windows and Doors will acknowledge receipt of your claim (generally within three business days), investigate your claim and take appropriate action (generally within 30 days after notification). If the product does not have a defect covered by the warranty, HomeRite may charge an inspection fee for any onsite inspection that is required or that you request.  If repair is not practicable and replacement is not reasonably available, then HomeRite in its discretion, may choose to refund the purchase price of the affected unit. In no event shall HomeRite's liability hereunder exceed the purchase price of the affected products. HomeRite shall have no obligation whatsoever unless you make a request under this warranty during the warranty period, and upon receipt HomeRite shall have the right to perform under this warranty.
​