This summer season, it is out with the old and in with the new. No matter where you live, patio doors are a great way to upgrade your home in a number of ways. Whether you are installing a brand-new patio door or replacing an existing door with something new, this addition is sure to do wonders for your home's efficiency and aesthetic. Read on to discover 4 reasons why Florida homeowners should consider updating their patio doors this summer.
1. Makes a Room Feel Bigger
Just because a space may be smaller does not mean it has to feel cramped. Installing a patio door that has a large frame is one of the best ways to make a space feel bigger and more open. A new patio door can do wonders for homes that may be lacking openings to the outside. Outdoor views have a way of tricking the eye into thinking a room is larger than it actually is. Furthermore, having a good source of natural light can also contribute to the openness of a room.
For those working with smaller spaces, sliding patio doors are going to be the best option to ensure that you will not need any extra space near the door to open it. These types of patio doors are designed to slide horizontally with one or more operating panels. This way, even homeowners who may have tighter spaces are able to enjoy the infinite views of the outdoors.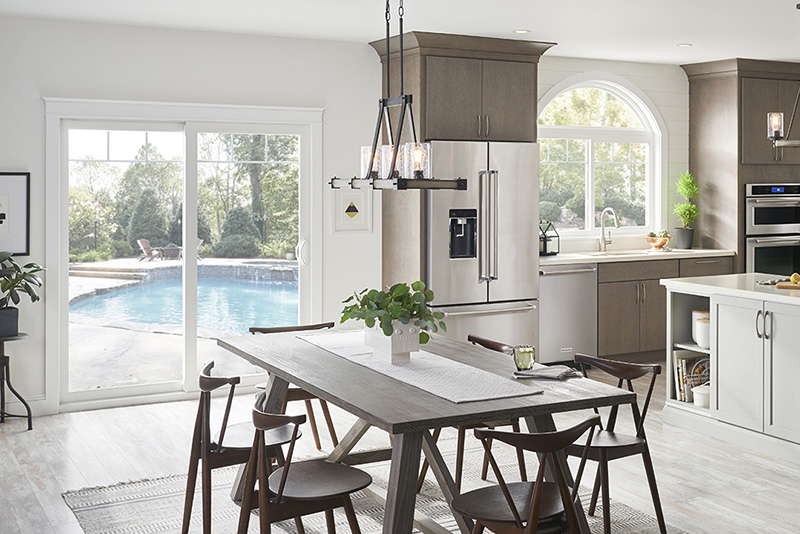 2. Upgrades Your Home's Aesthetic
Like any outdated home feature, an old patio door can have negative impacts on your property as a whole. Not only will a time-worn patio door affect your home's energy-efficiency, it will also make your home look less attractive from the inside and the outside. A few tell-tale signs that your existing patio door is due for an upgrade may include difficulty opening and closing, an increase of condensation on the glass, broken glass, or noticeable difference in room temperature surrounding the door.
A new patio door can do wonders for a home's overall aesthetic appeal. There are a variety of style options homeowners can choose from to ensure that their space stands out among the rest. For example, bifold patio doors have become a popular option for both traditional and contemporary styled homes. Also known as "folding patio doors", bifold patio doors provide an interesting way to open up your home through offering distinct architectural character. When open, they fold up and create a framed view. When closed, they provide beautiful natural light with geometric sensibility. Click here to learn more about French patio doors and sliding glass patio door options , as well.
3. Provides Protection From the Sun
The Florida summer-time heat is no joke, and it is important for homeowners to make sure that their living spaces are protected at all times. HomeRite's high quality patio doors with Low-E Glass coatings allow natural light to brighten up your space while reflecting heat and harmful UV rays. There are also options for blinds between the glass which are convenient and maintenance-free.
4. Lowers Cost of Energy Bills
The better insulated a home is, the more a homeowner will save on energy costs. Having newly installed, quality patio doors can have the same positive effects on a home as new or replacement windows. Similarly, patio doors are great insulators and will work to keep the heat out during the summer, and in during the winter. Additionally, HomeRite offers exceptional durability, soundproofing, structural performance, and Low-E Glass options that will also help with insulation and overall thermal performance of your new patio doors.
Get a Quote from HomeRite Windows and Doors of Jacksonville
HomeRite's patio doors allow homeowners to create a distinctive style for their Northeast Florida home. Our beautiful patio doors come in multiple styles and a variety of high-quality materials to ensure top performance. From classic to contemporary, we provide homeowners with custom fit, energy-efficient, and quality construction. Whether you are building a new home or looking for replacement patio doors, our experts can help you find the perfect solutions to fit your needs and budget. If you are interested in updating your patio doors for summer, contact HomeRite today for a free consultation.