Which Patio Door Style is Right for You?
Patio doors have the potential to completely transform a living space by letting the outside in through a seamless connection all while maintaining energy efficiency, beauty and security. French and sliding doors are often the two style choices that homeowners come down to when choosing patio doors for their home. While both styles are excellent options, there are certain pros and cons each possess that will vary depending on the type of living space you have.
We've put together some facts about French doors and sliding glass doors, their design differences and also similar traits that they share so that you will be fully prepared when making your decision.
Facts About Each Patio Door Style
French Patio Doors:
Traditional aesthetic
Requires space to swing open
Can open outward or inward
Also referred to as "swinging patio doors"
Provides a wider opening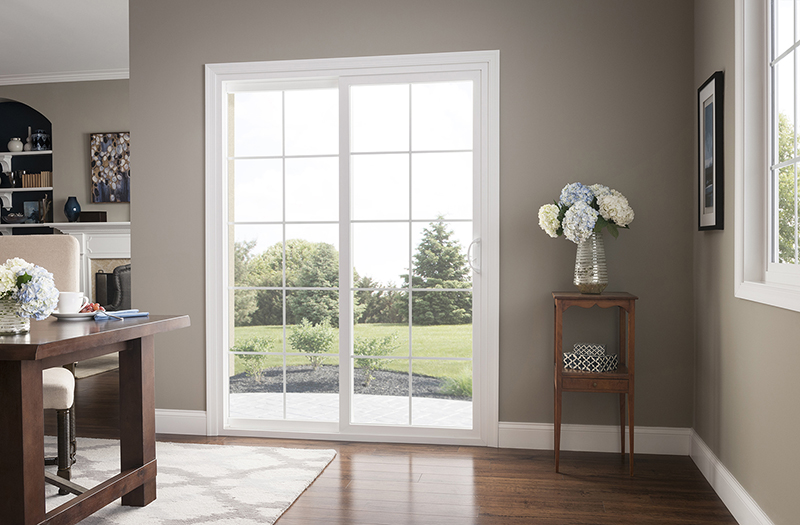 Sliding Glass Patio Doors:
Modern aesthetic
Allows flexibility with furniture placement
Slide sideways on a track to open
Also referred to as "gliding patio doors"
Offer an unobstructed view of the outdoors
Main Design Differences Between French and Sliding Glass Doors
When you are deciding which patio door style will be the best fit for your home, it's important to consider the key differences between each design.
Sliding doors require less space – The layout of a room will be a major deciding factor when it comes to choosing between French or sliding patio doors. Smaller areas, or rooms that may not have enough space for a door to open into will ultimately benefit from a sliding patio door. Sliding doors do not need the clearance to swing open and closed as traditional hinged doors do, giving you the convenience of more usable space for whatever you may need. If your patio doors are going to be located close to furniture or other objects that could get in the way of a french door, sliding doors will be a more suitable choice for your space.
Each style has different hardware – French and sliding patio doors each operate differently and require different door handles. There are hardware options for each door style that will contribute to the overall appearance of your patio door. However, when it comes to variety, French patio doors will have a greater selection in door handles than sliding patio doors. No matter if you prefer knobs or handles, you will be able to choose any design to fit your French patio door, whereas sliding patio doors strictly require a handle design.
French Doors Are Often Paired with Transom Windows for Added Character
Combining windows and doors together creates a distinct design in any home. Adding transom windows will allow even more natural light to come in while also presenting enhanced architectural detail. Transom windows come in all different shapes and styles that give you the freedom to create a unique look to match your home's design.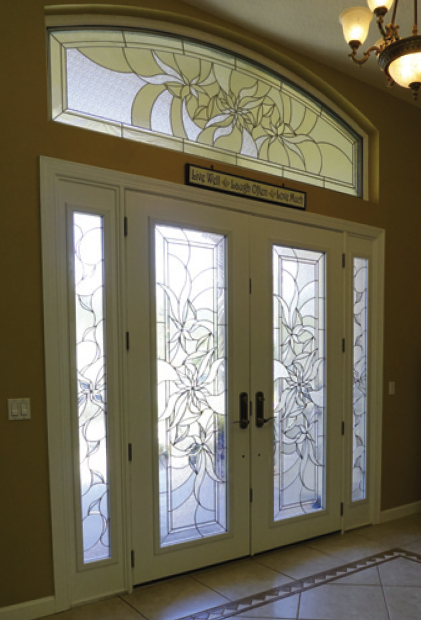 French Doors Provide a Wider Opening
While sliding doors have greater flexibility in terms of space, French patio doors may provide an overall wider opening to the outside. A wider door opening can be convenient for a variety of reasons, such as hosting a party or moving large pieces of furniture. Two operable doors will also allow better ventilation.
Common Traits of French and Sliding Glass Doors
Even though they are very different when it comes to style, French and sliding patio doors have a number of traits in common as well.
Energy efficiency
Both French and sliding patio doors are able to open up your living space to the outside, allowing fresh air into your home. The use of natural airflow can actually help decrease your heating or cooling bills.
Options for blinds between the glass
Between-the-glass blinds offer convenience and privacy to your home, and can be added to both French doors and sliding glass doors. You'll love not having to dust the window blinds!
Versatile styles and colors
No matter which style door you prefer, you can be certain that you will be able to make it your own through choosing from a variety of designs. Both French and sliding patio doors offer a multitude of frame materials, colors, glass designs and privacy options.
Overall, this answer will depend on your individual needs and figuring out which style will work best for your space. If you are looking for a traditional patio door that does not require much space, a vinyl sliding glass door may be the best option for you. If you're looking for a dramatic, open indoor/outdoor connection, multi-slide patio doors could be a great option! No matter which direction you choose to go, you can be confident knowing that a new patio door will be energy efficient, secure and stylish.
HomeRite Windows & Doors has over 30 years of trusted experience and is the go-to company when it comes to window and door installation and repairs in Jacksonville and Northeast Florida. Contact us today to schedule a free consultation.