So, you have been thinking about purchasing new windows but are wondering about what the window replacement process entails. At HomeRite Windows and Doors, our goal is always to make certain that your replacement window installation in Jacksonville is a pleasant experience. Our experienced installers work around your schedule and keep all work areas clean and neat. While some window installers may utilize different policies and processes, you can rest assured that with HomeRite Windows and Doors of Jacksonville, the window installation process is always carried out with the greatest care. As you continue your research, here are some more things you should know the process of replacing your windows.
Our scheduling staff will provide you with multiple options for installation dates. We always try to stick to the schedule, but, on occasion, the weather may delay installation and cause a change in date. In these cases, we'll always work with you to come up with another convenient time that fits your schedule.
To ensure that your job is done most efficiently, here are some things you can do to prepare for your window installation:
Make sure that all landscaping is trimmed back by at least 2 feet to allow for the installers to work. Relocate any delicate landscaping items or those blocking window access.
Inside, move furniture, window coverings, home accessories and other valuables to a safe area away from the window. There will be an opening for some time as the old window is removed and the new one installed. We always work as quickly as possible and will never leave an opening uncovered overnight. However, we still want all of your belongings to be safe, so putting them somewhere secure is the best option.
Be aware that window replacement is messy. We do our best to keep your home and work areas as clean as possible. Still, you may want to plan for pets and children to stay somewhere else for the day(s) we are installing. Most jobs are completed within a single day, but that could extend to 2-3 days, depending on the size of the job.
If you have an alarm system, you will want to contact the alarm company concerning the contacts on your windows. Please let us know ahead of time if you need us to save them. Your alarm company will need to come out and connect the new windows to the system.
While it isn't necessary for you to stay home throughout the entire installation process, please feel free to be there and observe the work being done.
More Important Things to Know
If your home is older, the plaster and Sheetrock around the old windows may crack during the removal and installation of new windows. We take every precaution to prevent this damage, but it is often an unavoidable problem on older structures. Our window installers don't have the materials to repair the walls. These services are typically handled by another contractor. However, we can replace broken window stops for a small fee.
Our installers lay down drop cloths to protect your floors and minimize the tracking in of dirt and debris. If your job takes longer than one day, our team will vacuum and pack up any tools or materials every day. When the job is completed, we will also do a final thorough clean-up and remove all debris from the work areas.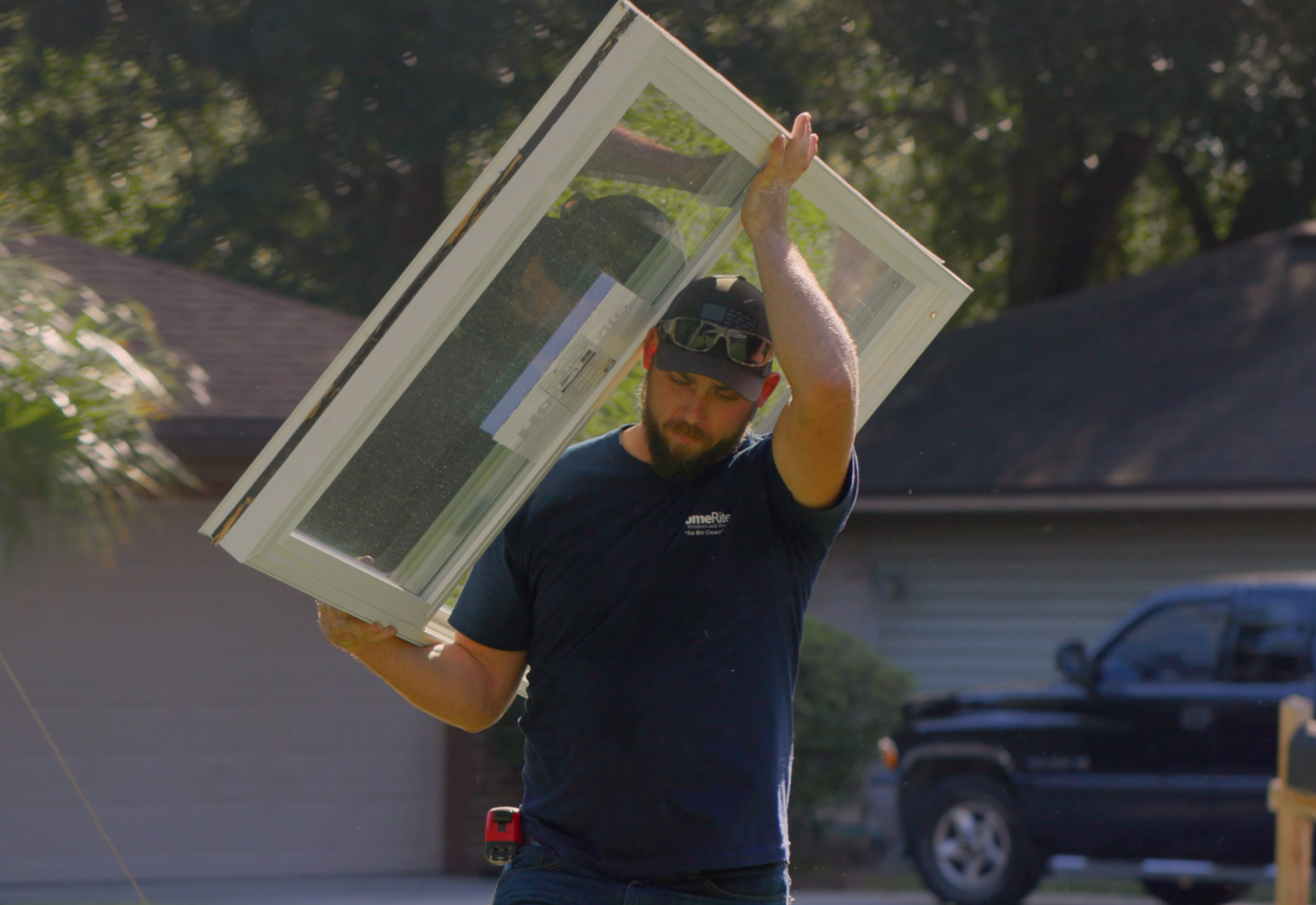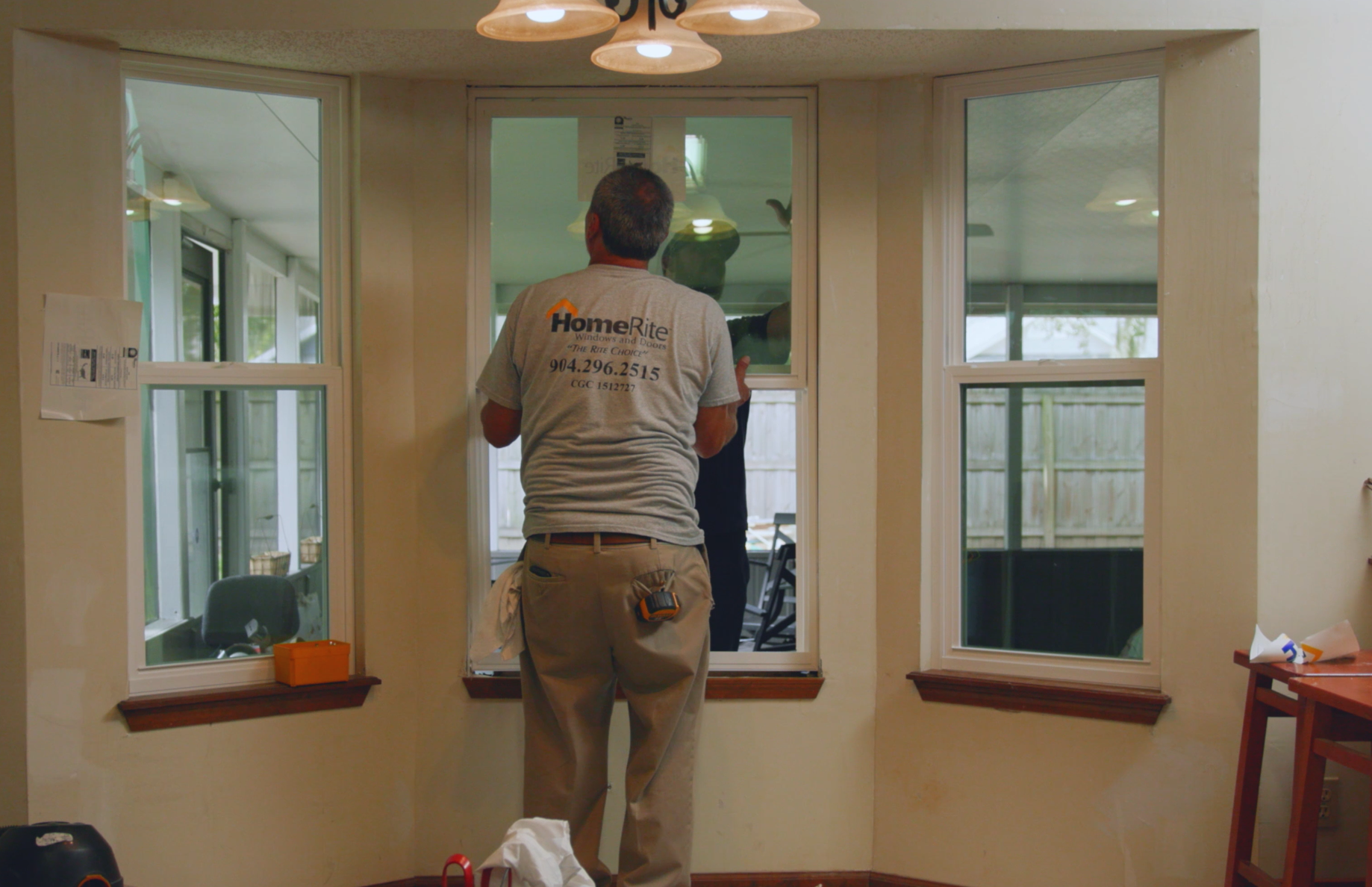 HomeRite Windows and Doors wants to be a part of making your home more beautiful. With over 30 years of experience, you can count on us to do a professional job that will last for years to come. If you are looking for a replacement window installation in Jacksonville, we are the 'Rite' choice! Contact us today for a free estimate of new and replacement windows in Jacksonville: (904) 296-2515.