The winter holidays are coming up, and for many that means a season of decorating, including adding some special decor to the entry door. Wreaths are one of the most frequently used decorations for adding a festive welcome to your home and can be changed out often with the varying holidays and seasons. When it comes to preserving the integrity of your front door, it's important to know the best way to hang a door wreath. Entry doors can include numerous design features, including glass inserts, aluminum overlays, wrought-iron scrolls and hardware packages, which are important to take into consideration when hanging your wreath.
For Standard Entry Doors, Use a Wreath Hanger:
Never put a nail into your entry door! Instead, opt for a wreath hanger that hooks over the top of your door. These typically cost between $5 and $15 for a basic hanger and in the $30-$50 range for more decorative, intricate designs. Pro Tip: Before heading to the home improvement store or ordering online, be sure to measure the thickness of your entry door and choose a hanger that has the same depth.
Suction Cup Hooks for Glass Doors:
Another option that works well for entry doors with glass panels or a sliding glass patio door, is a hook that has a suction cup attached. The suction cup can be applied directly to the glass and is a more discreet option for displaying wreaths and other door decorations. You could also consider the temporary application of products like CommandTM hooks which claim to be damage-free on most flat door surfaces or glass. Be sure to thoroughly read and follow the package instructions for proper door surface cleaning and prep, adhesive strip placement, and recommended weight guides.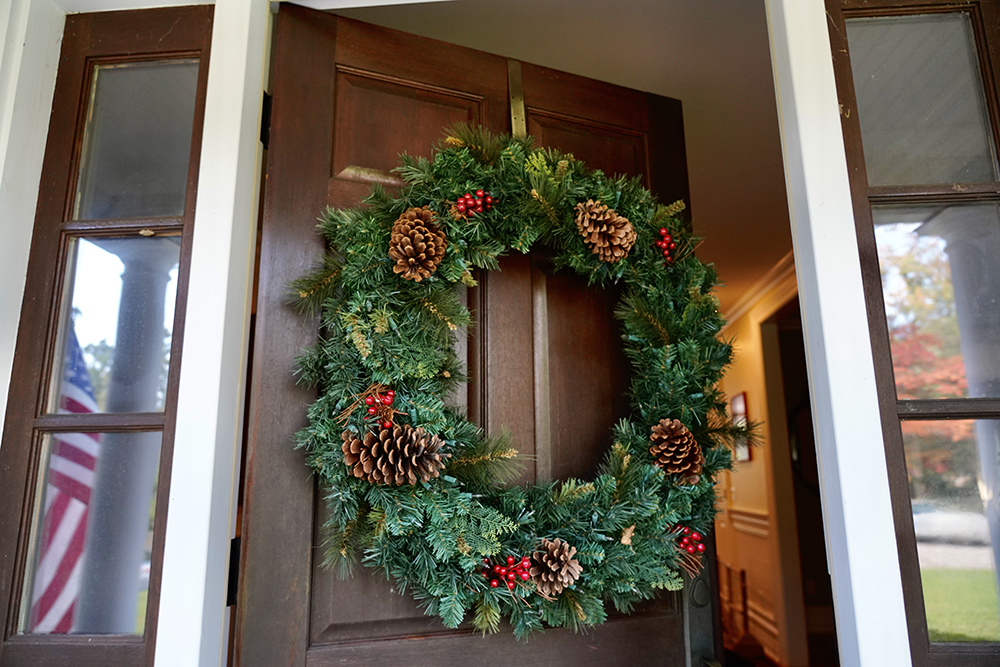 Wreath Stands as an Alternative
If you're absolutely in love with an unwieldy or heavy wreath that won't hang on your style of entry door, or you're just interested in a different look, a wreath stand is a fun option. They don't need to be installed and can be placed wherever you'd like.
Of course, even the most beautiful wreath can't disguise a worn or dilapidated entry door. If it's time to celebrate the season with a door replacement or upgrade, our team at HomeRite Windows and Doors in Jacksonville can walk you through all your options. Contact us at (904) 296-2515.