Thinking about remodeling your home but not sure where to begin? There are actually a number of ways for homeowners to increase their home's value and update its style. As you begin planning out your home improvement process, consider the windows and doors in your living space – do they function to their best ability? Do they have an outdated appearance? Does your space need more natural light? Asking these types of questions can easily lead homeowners in the right direction in terms of deciding how to upgrade their windows and doors to best complement their home. If you are planning to give your home an upgrade in the near future, read on to discover a few home remodeling ideas for windows and doors to transform any living space.
1. Upgrade to Bifold or Multi-Slide Patio Doors
Say goodbye to that worn out sliding glass door that you struggle to open and close every time. HomeRite Windows and Doors offers many configurations of sliding glass patio doors including bifold doors and multi-slide doors with smoothly gliding panels that either stack or pocket into the wall. These types of patio doors create wider openings and let you take greater advantage of the indoor/outdoor living style.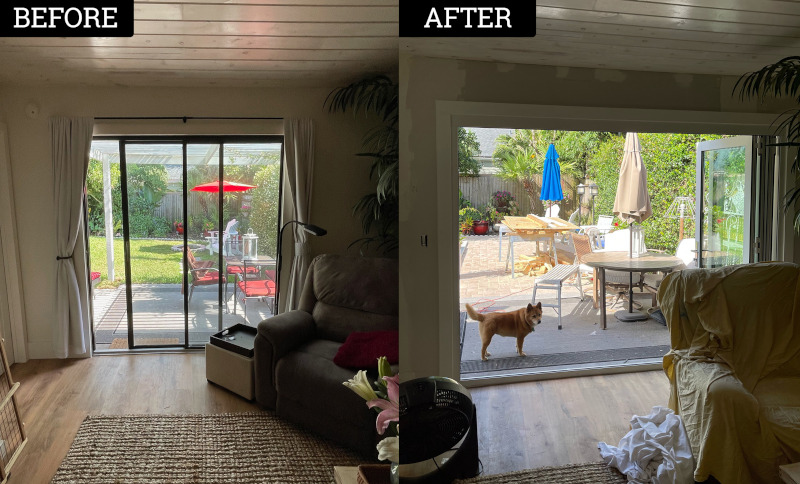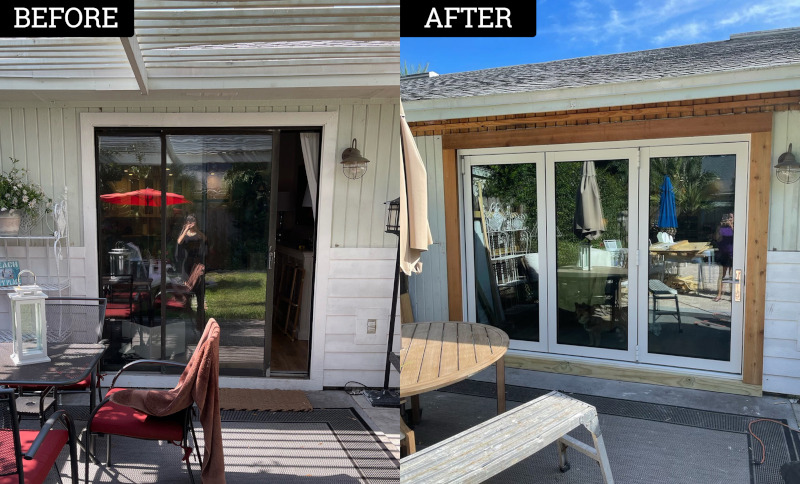 2. Get Creative with Window Arrangements
Whether you have single windows or side-by-side windows in your home, remodeling offers homeowners the opportunity to get a little creative with new window configurations. For those wishing to let in more natural light, planning a wall of windows is the perfect solution. Furthermore, depending on your personal style, homeowners can also have fun experimenting with different window shapes and how they look together to spruce up their space.
3. Install Transom Windows
Transom windows refer to narrow windows that are fixed above or on either side of a door—most commonly the front door. Installing transom windows is a great way for homeowners to embellish certain areas of their home with unique designs while also providing a number of practical benefits. For example, homeowners who may prefer to have solid front doors with no glass elements can install transom windows to allow more natural lighting while also maintaining the privacy of a solid door.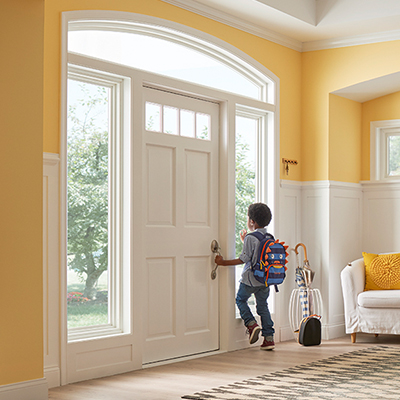 4. Add Interior French Doors
Traditional French doors are used on the exterior as a patio door or the main entry door to a home. Using French doors inside the home is a great way to add more character to an interior space, as well. Just imagine opening up double doors into a home office or formal dining room. Not only will French doors create a wider entry point to the space, but many styles include glass panes which will also provide more natural light throughout the home.
5. Choose Energy-Efficient Windows and Doors
If your windows and doors are original to your home, and it was built 15-20 years ago or more, it is definitely time for an upgrade! Not only will replacement windows and doors enhance your home's appearance, these new products will likely have a big impact on your home's energy efficiency. At HomeRite, we set the standard for performance by offering many Energy Star® rated replacement windows and entry doors that help keep your home feeling comfortable year-round.
Jacksonville's #1 Supplier of New or Replacement Windows
HomeRite Windows and Doors specializes in new and replacement windows for residential and commercial needs. Our company is known for our first-rate, energy-efficient custom windows, affordable prices and professionally trained staff who always use the best practices to respect your home. To learn more about our services, contact our office to get a quote!