Spring feels like it begins earlier in Florida. Along with longer days and nicer weather, springtime also gives us the opportunity to de-clutter and cleanse our homes to prepare for the year ahead. You guessed it – it's that time of the year for Florida homeowners to begin their annual spring-cleaning routines. As you get ready for spring cleaning in your home this year, we urge you not to forget about your windows and doors! As us Floridians know all too well, Florida pine pollen and dirt can quickly accumulate on windows and patio doors during this time of year, so you might need to clean them more often.
Read on to learn a few other spring-cleaning tips for windows and doors: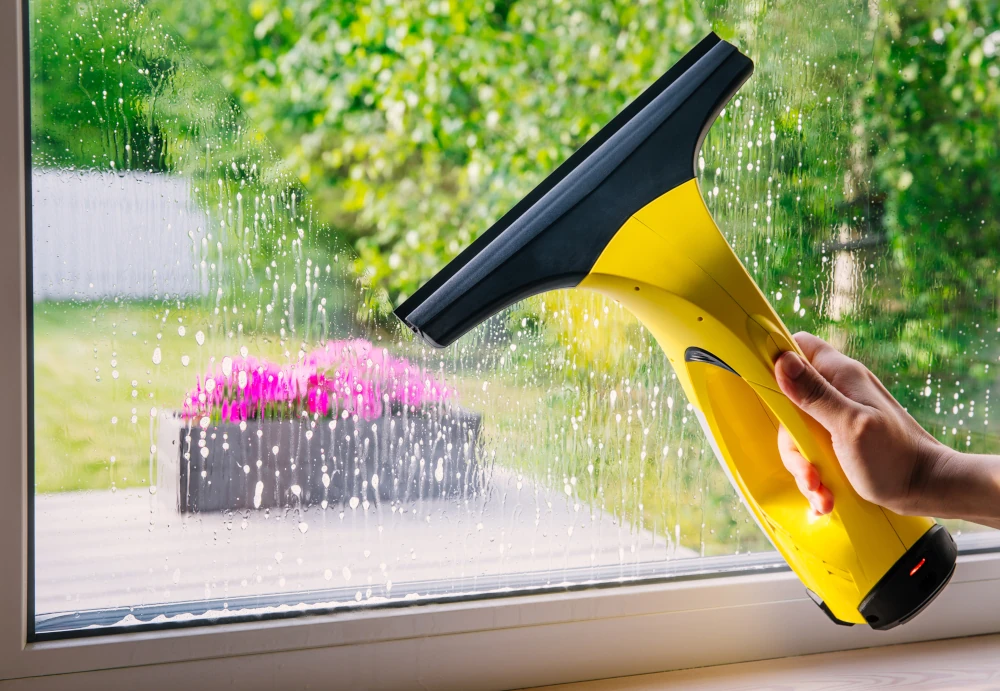 Cleaning Interior Windows
Before breaking out your commercial window cleaner, it is recommended to first wash your windows using clean water mixed with a few generous drops of dish soap. This first step is crucial, as it will help to remove any lingering dirt or residue that may have accumulated on your windows over the past few months. Next, you may follow up with a commercial window cleaner of your choice.
It is also important to properly dry your windows with a lint-free towel, or even paper towels will do the trick! If your windows need a little extra TLC, do not hesitate to repeat these steps a few times to achieve the perfect shine.
Cleaning Exterior Windows
The quality and cleanliness of your windows can make a huge difference in your home's curb appeal. Considering the exterior of your windows may have acquired more dirt and grime than the interior, it is a good idea to give them all a good rinse with an outdoor hose. After that, it is recommended to blend clean water with white vinegar to create the perfect outdoor window cleaning solution. Lastly, you will want to use either a squeegee or paper towels to effectively remove the cleaning solution and create a lasting polish.
Cleaning Interior Doors
We use our doors every day to leave and enter our homes, so it comes to no surprise that they easily gather their fair share of build-up over periods of time. When you're cleaning the interior doors of your home, always remember to dust first. Once you have ridden the visible traces of dust and dirt, most doors can be cleaned by using clean water and mild dish soap with a microfiber cloth. Homeowners with wooden doors specifically should steer clear of using glass cleaners or acid-based cleaners (like vinegar) to avoid removing paint or causing stains.
Lastly, it is also important to disinfect your doors. This can be done by using an all-purpose cleaning solution to sanitize doorknobs used on a daily basis.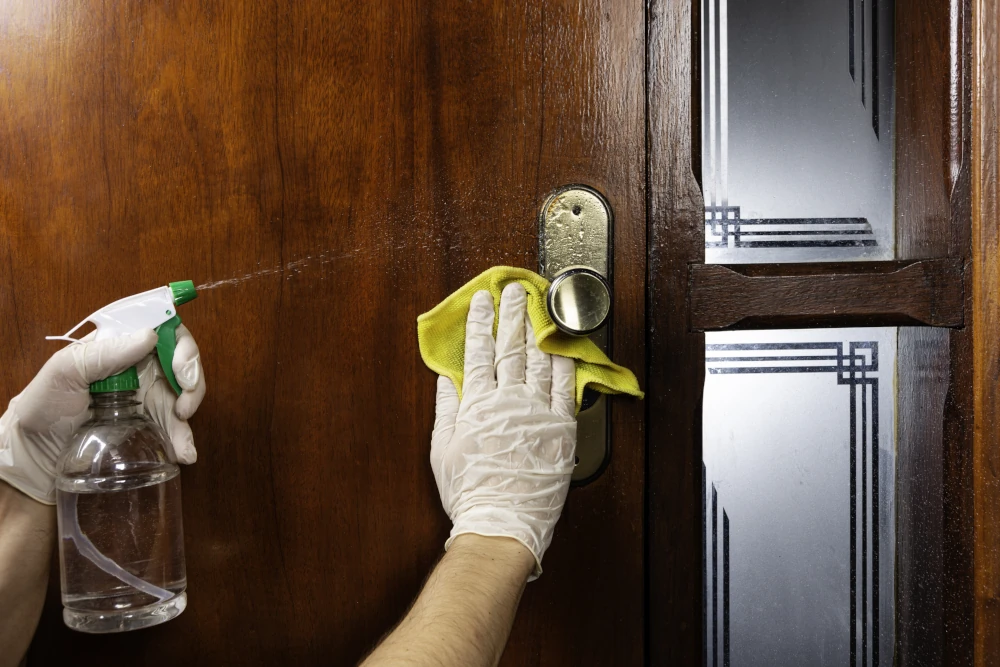 Cleaning Exterior Doors
Similar to windows, exterior doors can also make or break a home's aesthetic. While it may be tempting to reach for a powerful outdoor cleaner, harsh chemicals found in many cleaning products can damage fiberglass exterior doors. Simple soap and water will get the job done in most cases, especially for routine cleaning. Mix two cups of water with two tablespoons of dish soap in a spray bottle. Spray on your fiberglass door and wipe with a dry cloth. For an added boost, try adding baking soda to your cleaning solution. Add ¼ cup of baking soda to your soap-and-water mixture and lightly stir or shake until the baking soda dissolved.
Power washers are a popular tool for cleaning the exterior of the home. However, when it comes to the door, power washing can actually do more harm than good, especially fiberglass entry doors with glass. The powerful water jet can strip the paint or damage the seals, leading to leaks or reduced energy efficiency. It's important to keep these seals clean, but do so gently with a cloth.
To clean door hardware, polish with a non-abrasive wax and a soft cloth. This will help maintain the finish without scratching or damaging the hardware. When cleaning, check all screws on the lockset and hinges to ensure they are tight and oil the hinges when necessary. Dirt and dust particles can build up within the lock, too. As part of your cleaning routine, spray pressurized air into the keyhole to push out these particles. Additionally, consider lubricating the lock once a year as well. A few drops of WD-40 should do the trick—however, you should follow your lock's manual to ensure the proper lubricant is used for your specific mechanism.
(Reference info from plastproinc.com)
Perform Necessary Window and Door Repairs
Spring cleaning also gives you the opportunity to identify and address any window and door damage that may require repairs. While you are cleaning, keep your eyes peeled for signs of jammed windows or doors, cracked or foggy glass, torn weatherstripping, or outdated hardware. It is far easier to handle these repairs in the beginning of the year before Florida's infamous hurricane season begins in June.
HomeRite: Expert Window and Door Repair Services in Jacksonville
At HomeRite Windows and Doors, we've built our reputation on providing the best local window and door repairs and installation services in Northeast Florida. We pride ourselves on high-quality products, a great selection, and superior installation service. Get in touch with us today for a free estimate!