There is much more to a home's curb appeal than making sure your lawn is mowed and planting pretty flowers… A front door is often referred to as the focal point of the home, and we could not agree more! If you are looking for a new way to spice up your home's curb appeal, consider these entry door styles that are certain to get the job done.
1. Classic Entry Doors
We have all heard the phrase "less is more" – and it is true when it comes to home design! Even though the word "traditional" may not fit the vision you have for your home, classic entry doors have the ability to complement just about any home architecture and style. Traditional entry doors are not limited to one particular design, and actually have a broad range of appearances that can be made of any common door material. Homeowners can even choose to incorporate sidelights or small windows above the doorway, commonly referred to as transom windows, to add their own unique spin to this timeless entry door style.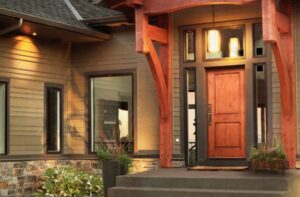 2. Craftsman Entry Doors
These finely crafted types of entry doors typically feature straight-line detailing and a few large windows in the upper part of the door, creating an all-around beautiful aesthetic. Even though craftsman entry doors appear to always be made of solid wood, it is also an option to get one manufactured with fiberglass for increased durability and lasting performance. Fiberglass doors are particularly suited well for homes in Florida and other southern, coastal states.
The name "craftsman" speaks for itself when it comes to describing the look and feel of this entry door style, as they all seem to appear as if they were uniquely made by hand. Craftsman doors pair especially well with farmhouse-style homes, as well as cottages, bungalows, and cabins.
3. Modern Entry Doors
In contrast to the intricacy of classic and craftsman entry door styles, modern front doors are designed with minimalism and simplicity in mind. When it comes to modern entry doors, everything from the door frames to the door handles are created to appear straight and sleek. Modern entry doors can be paired with large transom windows or floor-to-ceiling windows for additional creative appeal. While modern entry doors are most popularly paired with contemporary and midcentury-style homes, their simplistic design can be the perfect modern touch to just about any home.
4. Rustic Entry Doors
For those who love the traditional feel of a craftsman door but desire a bit more privacy and an antique-looking aesthetic, a rustic entry door may be the perfect fit. Rustic entry doors are well-known for their bold appearance, featuring heavy and solid hardware details along with a distressed door appearance. While windows are not commonly paired with rustic entry doors, homeowners sometimes incorporate a very small, discreet window opening to be able to see out when visitors arrive.
While the style of rustic doors may not be as versatile as other front door styles, they certainly do a great job at adding an eye-catching factor to a home. They arguably pair best with brick homes, stone homes, or Mediterranean-styled homes.
5. Arched Entry Doors
When you drive through a neighborhood, you'll likely see mostly rectangular entry doors. Arched entry doors are a great option for homeowners who are looking to add a subtle, unique flair to their home's curb appeal. Perhaps the greatest advantage of arched entry doors is that they pair well with just about any and all home styles.
Quality Replacement Entry Doors in Jacksonville
Attractive entry doors are one of the most important features of a home's overall curb appeal. If you decide it's time to replace your home's front door, our team of window and door professionals is ready to help you. HomeRite Windows and Doors offers a wide selection of entry doors and installation services that you can rely on. If you are considering a replacement front door for your home, we encourage you to contact our office today.