There is no doubt that the kitchen is one of the most used rooms in a home. That is why installing quality replacement kitchen windows is one of the best choices homeowners can make when it comes to improving the aesthetics and value of your property. To find the right windows for your kitchen, it is important to find a good balance of style, functionality, and ventilation. Read on to learn about what you should look for in kitchen windows and which options are the best choices for your space.
View Our Slider Window Brochure
View Our Awning Window Brochure
What to Look For in Kitchen Windows
Air Circulation
Kitchens are areas where steam, smoke, and smells can easily build up when you are cooking, making air circulation one of the most essential factors to consider when looking for new or replacement kitchen windows. Therefore, windows that are easy to open and operate are ideal for helping to control your cooking environment. If you have a hard time opening or closing your kitchen window, it's probably time to consider replacing it with a newer unit.
Functionality
Another essential consideration for kitchen windows specifically is how easy they are to use. Kitchens are often a space to socialize and spend a lot of time in, so it is important for them to be accessible and functional, especially if they are positioned over a sink. Slider windows, casement or awning windows are popular choices for kitchen because the window requires less vertical clearance and can therefore fit more easily above countertop height.
Aesthetics
Many homeowners prefer their kitchens to have a good amount of natural lighting. Your choice of windows will play a major role in making this a reality for your kitchen space. It's important to consider kitchen window options that are larger and that also match the interior and exterior of your home.
Best Kitchen Window Choices
Sliding Windows
One of the most highly recommended types of kitchen windows for modern homes are sliding windows due to their ease of use and excellent aesthetics. Sliding windows easily slide open on a track, making it super convenient for kitchen sinks and counters where you must reach over to open them. These windows are also great for ventilation and will give your space a fresh, contemporary aesthetic.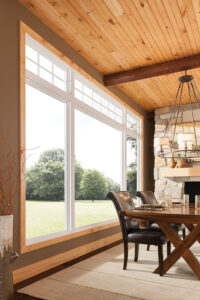 Double-Hung Windows
Double-hung kitchen windows are another great option. They are often praised for their versatility since they can open from either the top or bottom sash. Furthermore, double-hung windows give you control of whether you want to open them wide or just slightly enough to still let some fresh air inside. Not to mention, double-hung windows feature classic styling that is likely to match the existing windows in most homes, making them a great choice for an easy replacement.

Casement Windows
These highly functional windows are another common option for homeowners who are looking to replace their kitchen windows. Casement windows feature a crank that allows you to control how much air flow enters your home. With these pro-ventilation windows, you will never have to worry about your kitchen space over heating or getting too stuffy.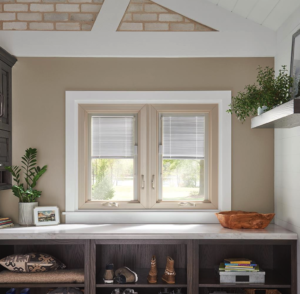 Consider a Patio Door for Your Kitchen
If you have the space, installing a patio door in your kitchen is another fantastic option to increase ventilation and natural lighting. Like kitchen windows, patio doors can help complete the look and feel of you space and add a significant amount of property value to any home. Indoor/outdoor living spaces have become increasingly popular over the years, and sliding glass doors or French doors are perfect for providing greater access from the kitchen directly outside to your patio.
Choose HomeRite for Your Replacement Windows and Doors
Our many years of experience and selection of high-quality, energy-efficient replacement windows and doors is what makes HomeRite the ideal choice for homeowners in Northeast Florida. If you have any questions about our products or services, contact us today!