Windows will not only be a reflection of your personal style, they will also have an impact on your home's value. Whether you are building new construction or need replacement windows for an older home, there are a few key elements to consider when choosing windows. Cost, energy efficiency, and maintenance are all important factors when it comes to deciding what windows are the right fit for your project.
Single-hung windows and double-hung windows are undoubtedly the most popular window styles that homeowners choose from. Even though the two options appear similar in style, it's important for homeowners to do research on their options to determine which window type will be most suitable to their needs. To help, here are few of the key differences between single-hung windows and double-hung windows.
What is a single-hung window?
A single-hung window is the most standard window style on the market today and the most popular choice for replacement windows. A single-hung window features one operational sash at the bottom of the window that moves vertically, while the upper sash remains intact.
What is a double-hung window?
Double-hung windows have two operational sashes that are able to move up and down at the same time. This means they can be raised from the bottom, lowered from the top, or both.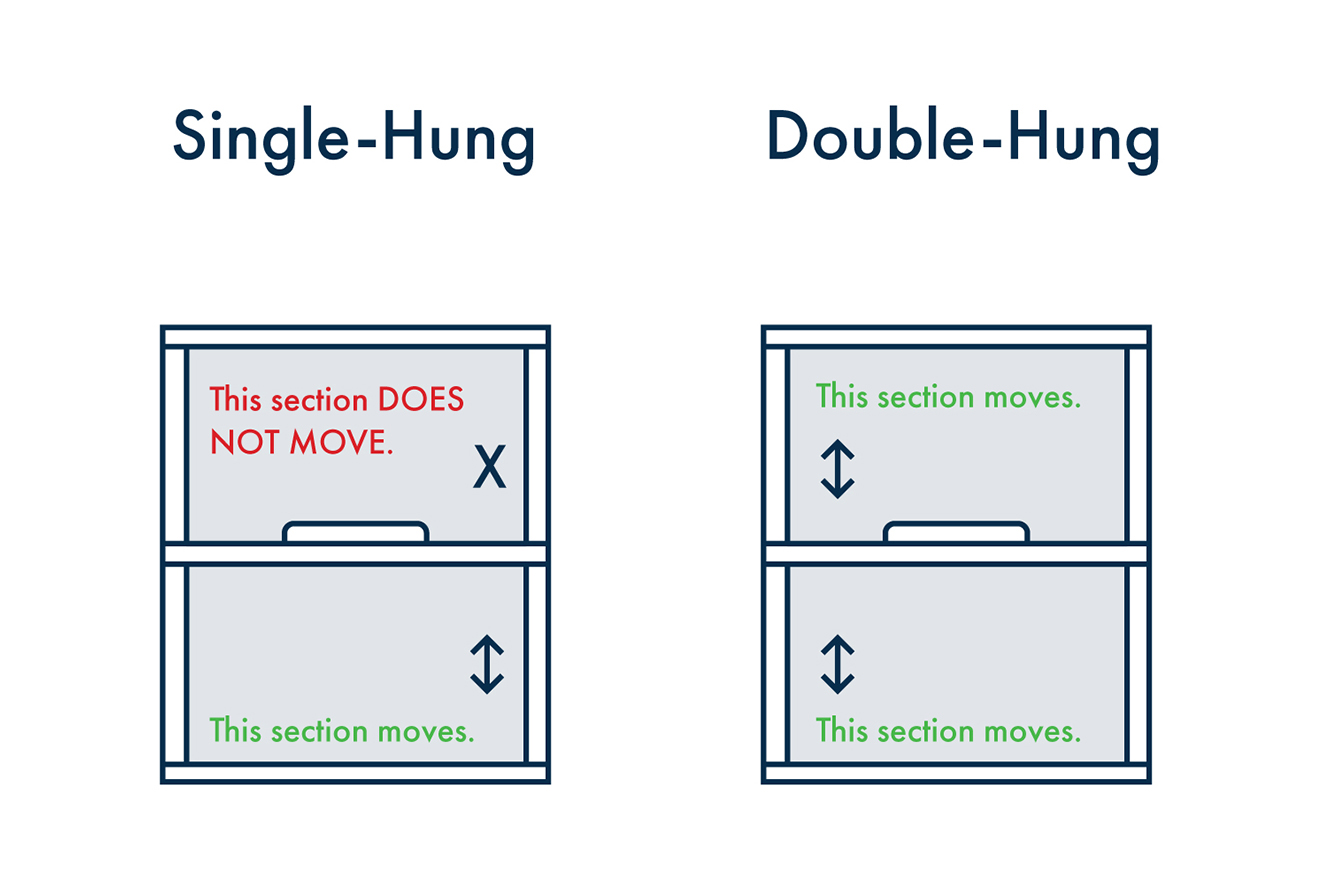 How are these window types different?
There are a few more differences between single-hung windows and double-hung windows that, based on personal requirements and preferences, are important to know before making any final decisions.
Single-hung windows are less expensive
Typically, single-hung windows are more affordable than double-hung windows due to a few factors. Even though single-hung windows are similar in size and appearance to double-hung windows, they feature fewer components. Standard single-hung, double pane, ENERGY STAR® vinyl windows, including installation usually average between $550 – $750 per window in Florida.
Double-hung windows provide more ventilation
Double-hung windows can be opened from both the top and bottom, potentially offering double the air circulation than a single-hung windows may provide. Double-hung windows also tilt in, making cleaning simple, easy and convenient.
What other factors should be considered when selecting replacement windows?
Although there are several options, generally, the best window material choice for Northeast Florida, and most of the Southeast, is vinyl. There are several reasons why vinyl windows are a go-to for so many homes in our area:
Vinyl is durable, strong and long-lasting.
Vinyl windows are heavy duty and provide a tight fit. This will prevent hot air from sneaking indoors on those uncomfortably hot days.
Low maintenance—Vinyl windows don't require painting, staining or refinishing.
Vinyl windows are energy-efficient. They provide excellent insulation from both hot and cold air.
Variations—Homeowners can choose from many different sizes, colors and styles. If you need custom windows, vinyl can also be customized.