Installing patio doors in your home is the perfect way to expand your space, allow more natural light and increase the value of your home. However, picking the right patio door for your home is not always an easy decision. There are many factors to consider when choosing the most ideal patio door that complements your home's architectural style and helps define your indoor/outdoor living space. Furthermore, there is also a wide variety of styles to choose from, each created to suit the needs of different homes.
First and foremost, homeowners need to consider how much space they have to work with, along with the materials they will need for durability and performance. This is why understanding the different types of patio doors available is essential before making any decisions. Read on to learn about each patio door style and what distinguishes them from each other to help make the right choice for your home.
Hinged and French Patio Doors
Hinged patio doors, also known as French patio doors, are a great choice for homeowners who are searching for a classic option. These doors are hinged at either side and can either swing in or out, depending on what works best for your space. Homeowners can choose between a single hinged patio door or installing a pair for more expanded views and a wider opening to the outdoors. Additionally, hinged patio doors have a number of style choices to match any home. Whether you live in a modern or traditional-styled home, there is no doubt you will find hinged patio doors with the size and shape needed to accommodate your space.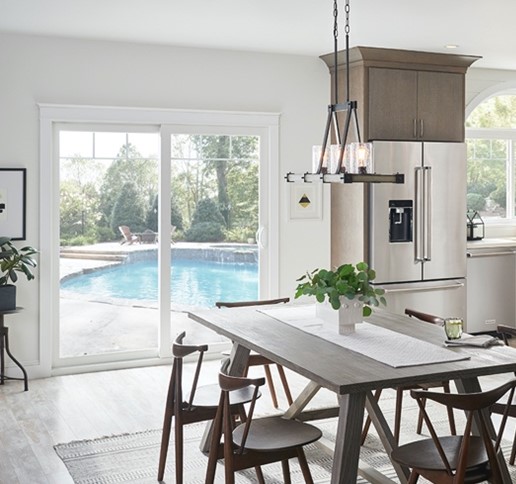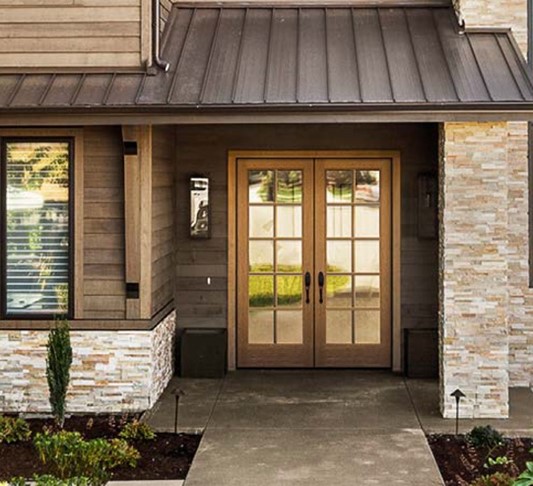 Sliding Glass Patio Doors
Sliding doors have become popular among homeowners today for their ease of use, customizable style and affordability. These patio doors are designed to slide horizontally with one or more operating panels. Sliding patio doors are the perfect option for those who are working with a tighter space. Because they don't swing in or out, homeowners will not run into the problem of any nearby furniture blocking the door's opening. Along with their versatility, sliding patio doors are also very easy to maintain and provide unobstructed views of the outdoors.
If you are looking for a more unique option, you cannot go wrong with bifold patio doors. Also known as folding patio doors, this style offers homeowners an interesting way to open up their living space and let the outside in. Bifold patio doors have a striking architectural structure that is sure to turn heads. They are made up of panels that open and close in an accordion style, stacking into the interior or exterior that creates ideal views. When they are closed, they provide a wall of light with a geometric sensibility that adds personality to any traditional or modern home.
Last but not least, multi-slide patio doors are another great option for homeowners who are looking for a functional patio door that provides expansive views. This style provides an elegant opening to the outside, straight stacking when opened to bring your indoor/outdoor living dream to life. Multi-slide patio doors are a wonderful option for homeowners who have a large patio or backyard and can be customized to fit any style.
Choose HomeRite for Quality New or Replacement Patio Doors 
No matter what patio door style you are leaning towards for your home, you can trust that HomeRite Windows and Doors will provide the best options to help transform your space. We offer patio doors in multiple styles with a variety of material options including fiberglass, aluminum, wood, and vinyl. From classic to contemporary, HomeRite patio doors provide homeowners with a perfect custom fit, energy-efficiency and quality construction. If you are ready to begin shopping for your new or replacement patio doors, we encourage you to contact our office today.