Summer is here which means it is almost time to celebrate America's birthday! And what better way to celebrate than to show off some red, white, and blue? With Independence Day being right around the corner, we thought we would share a few fun ways that homeowners can decorate their front doors and windows for July 4th. Read on to discover a few of our favorite Independence Day window and door decoration ideas for this summer.
1. Wreaths
Remember that wreaths are not just for the Christmas season! Patriotic-themed wreaths for the 4th of July are a great way to make your home feel more welcoming this summer. You can hang a single wreath on your front door or get multiple to place on the windows of your home. Whether you decide on a complete DIY project or choose something off the shelf, these decorative accents are sure to add something special to your home in honor of the holiday. Not to mention, a good quality wreath will last for years to come!
2. Door Hangers
If wreaths are not your first choice for front door decoration, door hangers are also a great option to show your patriotism while still offering a welcoming effect. Holiday door hangers often come in an array of styles and sizes. No matter if you want to go all out with a statement piece or choose something simpler, door hangers offer a little something for everyone.
2. Banners
If you are looking for ways to make your home stand out this Independence Day, traditional patriotic banners are a great place to start. These types of decorative flags look fantastic when hung below your windows, above your front door, or both!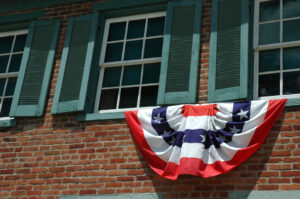 4. Doormats
A doormat is a great piece of decoration for your entryway no matter what time of year it is. Plus, you can always count on endless selections of seasonal doormats at just about every home store you can think of! Whether you opt for an eye-catching doormat with starts and stripes or would rather choose just one of the patriotic colors to welcome your guests, this small piece of décor will go a long way in putting your entire home's look together this Independence Day.
5. American Flags
Nothing represents "patriotic" more than hanging an American flag for all to see! Homeowners can never go wrong with incorporating American Flags into their home décor to celebrate Independence Day, and this can be done in several ways! For example, you can spruce up your window boxes or front porch planters with mini-American flags. Or for those who prefer a more traditional style, try hanging an American flag (or two) at the entryway of your home to create a classic aesthetic.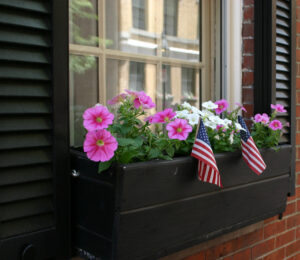 HomeRite Windows and Doors of Jacksonville
If you're happy with your seasonal décor but noticed it may be time for window or door replacements or repairs, the team at HomeRite is here to help! Contact us today for a free quote.