When it comes time for replacement windows for your home, bathroom windows may not always be at the top of your priority list – but they should be! In fact, bathroom windows are incredibly important for creating a healthy living environment.
Does My Bathroom Need A Window?
Yes – especially bathrooms that have showers or tubs. It really all comes down to ventilation. Bathrooms hold a good amount of moisture and can easily accumulate humidity. One of the main reasons why bathrooms need windows is to help release moisture, promoting natural ventilation and clean breathing air. Removing air moisture actually has a number of benefits for a home, including the prevention of rotting wood and potential illnesses caused by mold buildup. Not to mention, natural light is a major perk of having windows in any room of a home, and the bathroom should be no exception!
Popular Types of Windows in the Bathroom
While there is no "standard" bathroom window, there is definitely a selection of window styles that are better suited for certain areas of a home. The following options are popular choices for bathroom windows because they all encourage ventilation, have easy operation and are energy efficient.
1. Sliding Windows
Horizontal sliding windows are a great choice for bathrooms. They're incredibly easy to operate, allowing ventilation when needed. The windows can be custom sized depending on your space. Shorter sliding windows can be installed higher up on the wall, providing added privacy in first-floor bathrooms.
2. Casement Windows
To achieve maximum airflow in your bathroom, casement windows might be your best bet. Casement windows are perfect for narrow walls and tighter spaces due to their vertical structure and the fact that they open outward instead of sliding up or sideways. This window style is actually popular for many areas around the house, including kitchens and bedrooms.
3. Awning Windows 
Awning windows are also popular in bathrooms. They are hinged along the top and open outward, providing exceptional ventilation and natural light. Since the height of the window is only one single pane, an awning window can be installed higher up on the wall so that homeowners can retain their privacy even when the awning window is open in the bathroom. Whether you are looking to install a small window in your shower or a larger window over a bathtub, awning windows are incredibly versatile and well-suited for any bathroom space.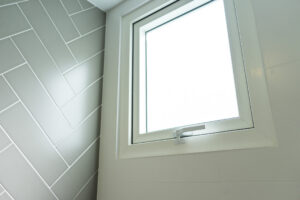 Energy-Efficient Replacement Windows from HomeRite
Don't slack on your home's bathroom windows! HomeRite Windows and Doors is a top-rated window replacement, repair, and installation company located in Jacksonville, Florida. Our team ensures that your replacement windows are installed properly, and we also provide quick repairs for minor issues such as leaky windows, jammed windows, and broken windowpanes. If you need bathroom window repair or replacement services, give us a call today.