When thinking of ways to promote health and wellness, many may think of maintaining a balanced diet or practicing physical fitness. While these are certainly great ways to a healthy and happy lifestyle, there are also many other factors to consider when it comes to your overall well-being. In fact, it may come as a surprise that even the windows and doors in your home can help promote health and wellness for you and your family. Everything from indoor air quality to reduced outside noise, more natural lighting, better energy efficiency, and enhanced connection to the outdoors are all benefits associated with windows and entry doors in a home.
Hear What Makes HomeRite "The Rite Choice!"
How Windows and Doors Can Help Promote Wellness
1. Improve Indoor Air Quality
The building materials used in your home can have an impact on your indoor air quality, which is why it is important for homeowners to recognize when their windows need to be replaced. For example, if your windows are difficult to operate or they simply cannot be opened or closed, you will not be able to welcome fresh air into your living space and in return, stale air will not be able to escape. To prevent the buildup of air pollution in your home, homeowners should regularly ventilate their living space by opening their windows from time to time. Improved indoor air quality has been linked to several health and wellness benefits, such as easy breathing, better sleep, elimination of allergens, reduced odors, and balanced humidity.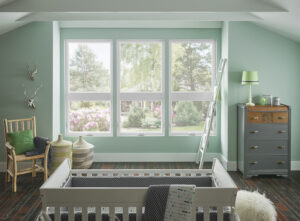 2. Reduce Outside Noise
A good night's sleep is essential to maintaining good health. Multiple studies over the years have shown that the quieter the sleep environment, the better the sleep and human wellness. High quality replacement windows can reduce outside noise exposure that may interfere with your sleep, such as a passing traffic, barking dogs, lawn mowers, or loud neighbors.
3. Welcome in Natural Light
Exposure to natural light helps our bodies produce Vitamin D, helps us focus, promotes productivity, and even elevates our moods. One of the best ways to increase natural lighting in your home is to install large new windows and doors. Sliding windows and patio doors are great options for welcoming in more natural light, as well as bi-folding patio doors that can transform an entire wall of your home into glass creating breathtaking views and ultimate light levels.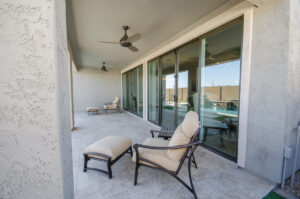 4. Increase Energy Efficiency
An energy efficient home makes all the difference when it comes to livability and comfort – especially for Floridians who endure higher temperatures year-round. Windows and doors are a great place to start when it comes to creating an energy-efficient living space. Installing energy-efficient windows and doors helps reduce the amount of heat that escapes or enters your home, creating a more comfortable living environment. This increased insultation combined with Low-E glass options and proper installation are all ways to reduce your home's energy usage, carbon footprint and energy bills.
5. Create Connections to the Outdoors
Windows and doors are vital to creating that indoor and outdoor connection. There's a good reason why more homeowners are opting for indoor/outdoor living spaces. While physically getting outside is perhaps the most beneficial for your health, indoor/outdoor living can give a similar mood boost by simply opening up your patio doors and windows. By expanding indoor space to include outdoor space, homeowners will be able to allow more fresh air flow that is essential for health and wellness.
HomeRite Windows and Doors of Jacksonville
HomeRite is one of Florida's most trusted and experienced providers of high-quality, energy-efficient replacement windows and entry doors. If you are interested in new or replacement windows and doors for your home, we encourage you to contact us today for a free estimate!.