Spring is almost here! And what better way to welcome the season than installing new patio doors to connect and expand your indoor/outdoor living space? Read on to learn 4 things to consider when buying new patio doors.
1. Space
First things first, homeowners should take accurate measurements of their space before shopping for new patio doors. For example, if you wish to create a larger opening to the outdoors, or even add an entirely new door where there was not one before, it is essential to measure the wall space in order to narrow down your options and ensure the perfect fit.
In addition, it is also a good idea to measure the space surrounding your new or improved patio door area, including in front of and behind where the door will be. If you want French doors, this will help determine a number of factors such as how much space you have for the doors' inswing and outswing and how much room you will have to get in and out of the area. Knowing these measurements before shopping will make your life much easier and will better lead you in the right direction regarding which door will work with your home and lifestyle. You might even realize that multi-slide doors or bi-fold doors would work best in your space.
2. Functionality
Functionality plays a very important role when it comes to choosing the right patio doors for your home. Sliding patio doors, multi-slide patio doors, and bi-fold patio doors help provide a seamless transition from inside to outside. Here is a brief breakdown of each type of patio door style:
Sliding Patio Doors – Also referred to as "sliding glass doors", sliding patio doors are designed to help save space and create unobstructed views. They slide horizontally and typically have one or two operating panels. Features like blinds-between-the-glass can provide additional convenience and privacy.
Multi-Slide Patio Doors – Similar to sliding patio doors, multi-slide doors are created for smooth operation and straight stacking to provide unmatched views and desired indoor/outdoor living.
Bi-Fold Patio Doors – Also known as "folding patio doors", bi-fold doors provide an interesting way to open up a home by offering a distinct architectural character. They fold up like an accordion, offering a unique framed view with geometric sensibility.
When choosing the functionality of your patio door, it all comes down to the space you are working with. If the area surrounding your new patio door is tight or blocked by furniture, installing a sliding patio door may be the best option for you.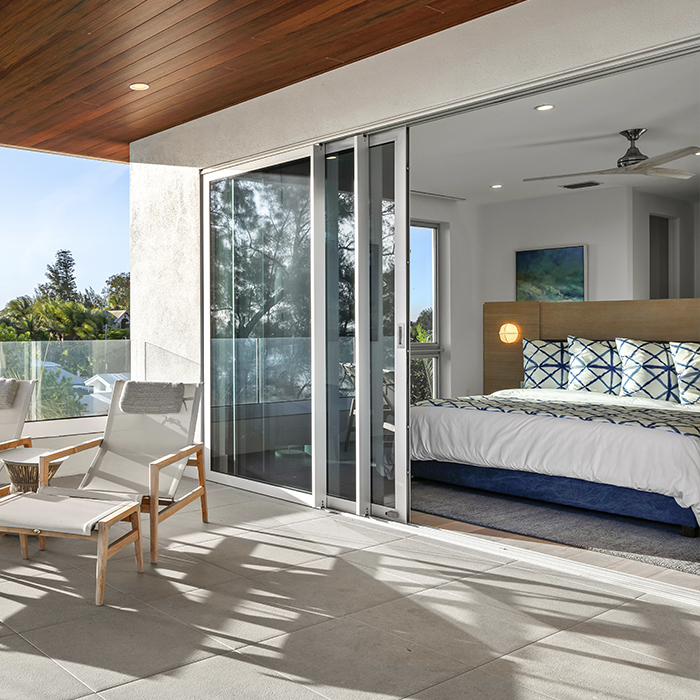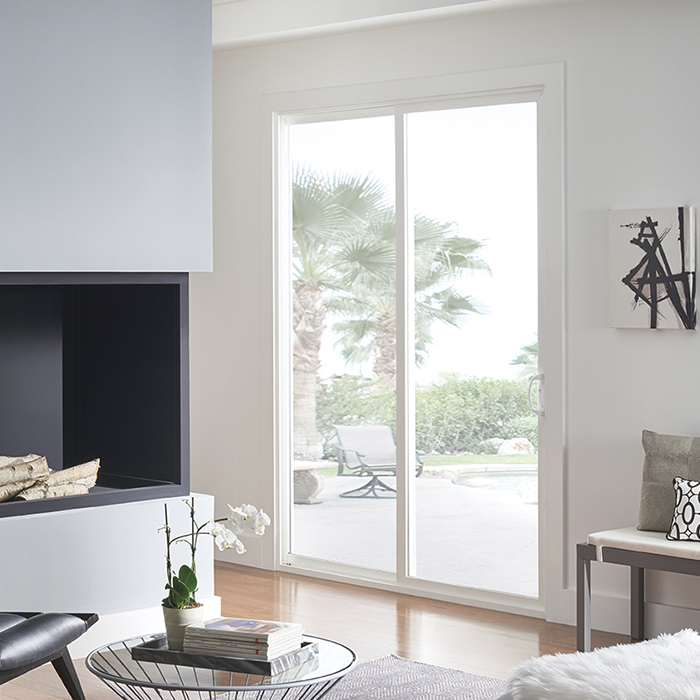 3. Material
Choosing the right material for your patio door will not only help bring personality to your home, but also has the ability to improve energy efficiency. At HomeRite Windows and Doors, we offer a variety of energy-efficient door designs to help prevent drafts and increase energy savings. A few popular options include:
Fiberglass Doors – Known for their unequaled strength and durability, fiberglass doors provide lasting performance even in the most extreme conditions. Furthermore, fiberglass material is completely customizable and can be specially designed to match your unique vision.
Aluminum Doors – Both low maintenance and durable, aluminum doors are another great option for homeowners searching for energy-efficient solutions.
Vinyl Doors – Energy efficiency and ease of maintenance are a couple of factors that make vinyl doors yet another great option to consider.
At the end of the day, each door material holds its own unique benefits. If you are having trouble deciding which material would work best for your home, we encourage you to speak to a windows and doors professional for expert guidance.
4. Style
Last but not least, finding a patio door that matches your home's style is a must! Whether you want to stick with a traditional aesthetic or get a little creative with contemporary bi-fold patio doors, the options are seemingly endless. No matter what, you can rest assured knowing that the perfect patio door for your home is always attainable.
Contact HomeRite for Quality Patio Doors in Jacksonville
At HomeRite, our licensed and trained windows and doors repairs services team is the best in the industry. With years of working right here in Northeast Florida, you can trust the professionals at HomeRite to always get the job done. Contact our office today to learn more about our expert window and door repair and replacement services.