High quality, energy-efficient windows help protect your home, reduce heat transference and keep conditioned air from escaping—while also adding beauty and natural light. Choosing energy-efficient windows is a smart financial decision that will save you money in the long run. If you're looking for energy-efficient replacement windows in the greater Jacksonville area, HomeRite is "The Rite Choice!" We are premier providers of energy-efficient windows, including ENERGY STAR® and SmartRite® windows, across Northeast Florida, Central Florida and Southeast Georgia
What Features Makes a Window Energy-Efficient?
While windows come in a large variety of colors, styles and materials, the most critical aspect is their energy-efficiency. Your windows should help you save money on your utility bills. There are several factors that make a window energy-efficient.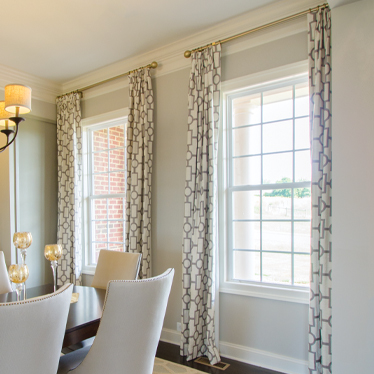 Here's a helpful guide to make the best decision when purchasing replacement windows:
Window Glass
As glass is the most significant part of the window, it is vital to understand the different window glass features available, and what the benefits are of each:
1. Low-E (low emissivity) Glass and Coatings – As every surface reflects and transmits heat, the amount of heat a window absorbs will directly impact the energy-efficiency of the home. Low-E or low-emissivity glass minimizes the amount of infrared and UV light that comes through the glass, without affecting the amount of light that enters your home. Low-E glass windows have microscopically thin coatings that are transparent but which reflect heat. Tinted windows are not the same concept, as they only reflect the light.
2. Multi-Paned Glass – Energy-efficient windows often feature double- or triple-paned glass. These panes are separated by pockets of air or gas, depending on the product. While a double-pane window is up to 50% more efficient than a single-pane, a triple-pane goes a step further, increasing energy efficiency by as much as 70%.
3. Gas-Filled Glass (Argon or Krypton) – As we discussed above, gas (Argon or Krypton) is the ingredient most often used to fill the space between double- or triple-pane windows. The gas is sealed inside of the window to provide increased energy-efficiency, as well as a barrier against noise. Filling the spaces between panes also prevents condensation from forming.
Window Frames
Like glass, window frames are an integral part of every window and thus, key to their energy-efficiency performance. Most important of all is what your window frames are made of.
1. Window Frame Materials – With so many options, choosing your window frame material can be overwhelming. In most situations, and especially for our Florida climate, vinyl single-hung windows are highly recommended for their performance and durability, as well as cost-efficiency. Vinyl windows come in a wide variety of styles and colors to match your home. Other window frame options include fiberglass, aluminum and wood frames.
How Much Can Energy-Efficient Windows Save You?
The Department of Energy states that consumers can save an average of 12% on their annual utility bills by purchasing energy-efficient windows with ENERGY STAR® level ratings. For an individual who spends $200 a month or $2,400 annually, this would translate into a savings of $24 a month—or approximately $288 a year. Energy-efficiency savings are ultimately influenced by the size of your home, climate, and the type of windows you buy. It is important to note that regardless of where you live, your savings will be significant. At HomeRite, we carry a wide selection of ENERGY STAR® and custom-manufactured SmartRite® energy-efficient windows.
With over 30 years of experience, HomeRite is the go-to company for energy-efficient windows. Our top-quality windows and doors, coupled with our master window installers, provide the best experience for homeowners in Northeast Florida, Central Florida and Southeast Georgia. Call us today at (904) 296-2515 to schedule a free consultation and window replacement estimate, or visit us at our Jacksonville showroom.